Managing Partner, Michael Monk Points at the Economy As Small Business Concern in ABL Advisor Interview
Release Date: 11/13/2013
Flexibility Keeps Asset-Based Lending at the Forefront
READ FULL ARTICLE AT ABL ADVISOR'S WEBSITE
Amerisource: Serving a Broad Array of C&I Borrowers
D. Michael Monk
For Amerisource's Michael Monk, well run small businesses aren't finding it difficult to secure financing these days. Their concerns rest with a lackluster economy.
ABL Advisor:  How would you best define AmeriSource's factoring and asset-based lending businesses and the borrowers they serve from a geographic, borrower industry sector and deal size standpoint?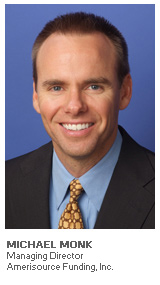 Michael Monk:  Amerisource is a nearly 30 year-old company. We are an independent and privately held finance company and we are a bit unique in terms of the borrowers we serve and the size deals we fund. Our factoring group deals with clients with annual revenues a little as $1 million. On the high end, our asset-based lending group works with clients with annual revenues up to around $250 million, including both private and publicly traded companies. In terms of deals financed, this equates to transactions ranging from $100,000 to $15 million. We essentially serve the small and middle-sized enterprises on a nationwide basis. Amerisource maintains ten offices across the country with roughly 65 employees. Our key managers have been with us for 10 to 15 years or more and all of our people are very experience and know how to execute.
Being privately held, we have a unique position in the marketplace in that we have the scale to do larger deals and the flexibility that comes by not being a bank. On smaller deals, we can compete effectively because we have this scale and a low cost of funds. On the larger deals, we are often competing with banks and while our pricing is going to be a bit higher, in today's market there isn't a big difference in the spreads.
We finance all industries in the commercial and industrial sector and we will also provide some contract type financing. We avoid general contractors unless they are working directly for a project owner and aren't using sub-contractors and we aren't in the medical claims processing space, as that's a very unique niche. But we are very aggressive in our pursuit of financing business transactions in the commercial and industry sector.
ABL Advisor:  From your perspective, what are small business owners facing when it comes to their financing needs? What are these entrepreneurs looking for from their finance company?
Monk:  First of all, in my opinion, it's a crazy market out there and today's environment is far from normal. During and after the recession, we picked up many clients who had lost their bank financing. We came in and they were ecstatic at that point to have a stable financing option so they could go back to working on their businesses and not have to worry about their balance sheets and financing. That has changed in the last couple of years and much of that change has to do with today's artificially low interest rates. We have an economy that's not growing terribly quickly and we're not seeing the natural expansion of businesses that need credit during a booming economy. At the same time, there is increased competition from newcomers and this competition has brought about compressed yields.
So to answer the question, I don't think business owners for decently run companies are having a hard time finding credit right now. There's a ton of money out there for these businesses and with the increased competition, these businesses are quite often making their decision based on overall borrowing costs. On occasion, timeliness and certainty of funding may be the differentiating factor, but good companies are really focused on borrowing cost. But this economy has not really provided much help for companies in dire straits or that may be too far gone – they are still finding it challenging to access financing. I think the real problem business owners are facing problems is our lackluster economy more than anything else.
In a more normal market, small businesses are generally more focused on finding the "right fit" for their lender, rather than financing costs. They are more focused on availability and flexibility and negotiating liberal covenants and concentration caps. Today, there is so much liquidity and it's so competitive that smaller borrowers are pretty much able to dictate their structures. They can find a lender to do what they want at a price they want to pay, but many of them are not digging deeper to discover whether the lender is really a good long term fit for their business.
ABL Advisor:  Given the current economic environment, what are the realities facing finance companies when it comes to funding their credit lines?
Monk:  It seems to me that financing for finance companies has been very easy for the last couple of years. Prior to that, say in 2008 through 2010, if you had a bank that was still lending to finance companies and was still interested in your business, you were one of the lucky ones. Amerisource fell into that category. Back then, our lead bank ended up selling its Texas operations to raise capital to cover its mortgage losses in California. Luckily we had a participant in the syndication that was willing to step up and take over the lead role. We were indeed fortunate to have a strong lender who was largely unaffected by the downturn and was able to bring in another participant to fill the gap. But there were many finance companies that were in the wrong place at the wrong time. There were numerous that had sound operations and were doing a good job at running their businesses … but their lender had a hard time and the finance company lost its line.
That's changed dramatically in the last couple of years and maybe the banks have gotten a little too aggressive these days. But right now, it seems that there are many banks looking to lend to finance companies with some pretty aggressive structures.
ABL Advisor:  What is Amerisource's outlook with regard to the small business lending marketplace in the coming year?
Monk:  If you look at small businesses today as compared to 2006 or 2007, fewer of these businesses are doing as well as they were then. The economy isn't growing very quickly and these businesses are struggling to find customers. Pension and healthcare costs are rising and all of these factors combined have companies not perform as well.
At some point, the Fed is going to stop the Quantitative Easing program, but I think that as long as credit is cheap and there's a lot of liquidity in the marketplace, small businesses will be able to find some form of financing.
-END-